There's a misconception that moe equals ecchi, but that couldn't be far from the truth. Though traditionally moe animes have been about "cute girls doing cute things", the genre has since expanded to accommodate a lot more.
Most 'moe animes' these days tend to center around a variety of fuzzy elements like chibi/adorable characters, a funny plot, and adorable voice acting. The point of these animes is to fill the viewer with a sense of strong affection for the characters and leave them gushing over the show.
So in short: if an anime is extremely wholesome and leaves you giddy, it's most probably categorized as moe.


tsukachan
Today, let's take a look at some of the best moe animes I've watched!
1. Non Non Biyori
Story
Asahigaoka may look like the boring countryside, but no day in this little village is ever colorless. Join 5 adorable kids of this village in their not-so-normal daily lives as they engage in their own brand of fun and frolic, and playfully struggle with the realities of living in a rural area.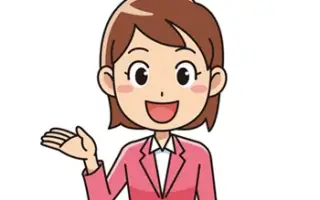 Non Non Biyori is the best moe anime out there. It's perfectly innocent and overloaded with adorable characters, and has some of the most high-quality artwork for its genre! It's also where that viral "Nyan~ Nyanpasu~" tiktok sound came from, and is by far the highest-rated moe anime of all time. (PS: You're going to love Renge!)
2. K-On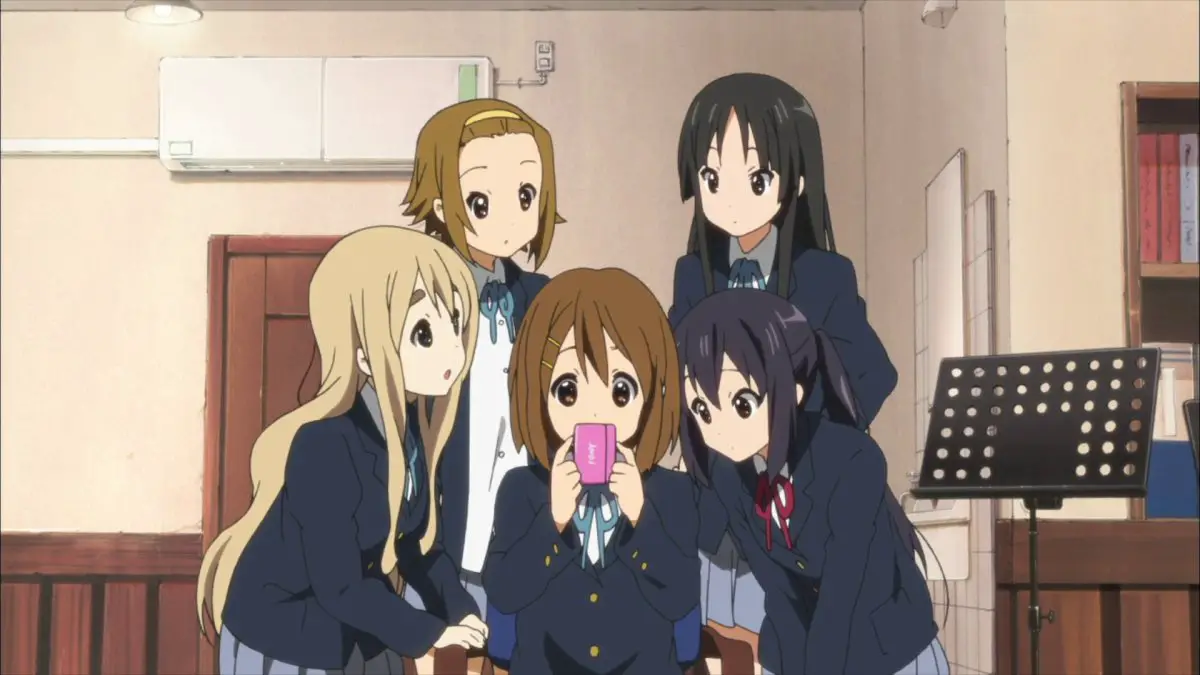 Story
Yui finds herself reluctant to join a music club due to her lack of instrumental experience, but the members of the club are desperate for members and will do anything to get Yui on their team.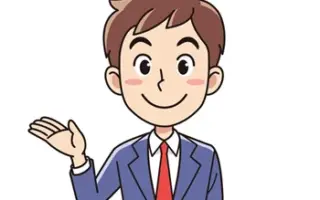 The Lives Of Cute Musical Girls
20s man
The plot of this show isn't that memorable, but that's not the point. K-On features some of the cutest female characters and the most adorable voice acting, as well as a GREAT music collection. It's perfect for when all you want to watch is something funny and with an overdose of moe elements!
3. Himouto! Umaru-chan
Story
People are not always who they appear to be, as is the case with Umaru Doma, the perfect high school girl—that is, until she gets home. Once the front door closes, Umaru transforms from the refined, popular model-student to a lazy chibi otaku in an oversized hoodie.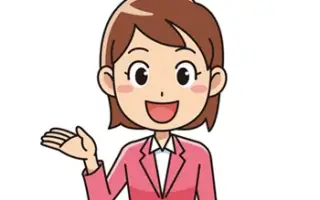 Two Faced Little Sister!
20s female
The highlight of this show isn't just Umaru's chibi transformation, but also the comedy that ensues as her brother, Teihei, deals with her tantrums. This show is effortlessly hilarious, and has one of the best sibling dynamic I've seen in anime.
4. Flying Witch
Story
Just like tradition requires, Makoto Kowata leaves her parents' home at age 15 to learn about witchcraft. Joined by her black cat familiar, Makoto embarks on a journey to Aomori — a region famous among Witches for its abundant magic, and starts a new life with her cousins Kei Kuramoto and his little sister Chinatsu.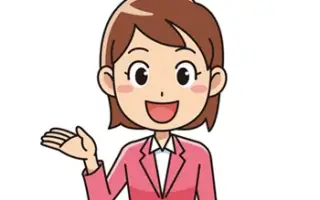 Healing Witchcraft!
20s female
Instead of the loud and flashy side of moe, Flying Witch falls more into the 'serene and magical' side. It's a healing anime with soothing soundtracks, as well as some well executed comedy. And the show was filled with magical moments that made me wish I lived with Makoto! It's hard to put this show into words, you'll just have to trust me and watch it.
5. Girls' Last Tour
Story
Chito and Yuuri are the last survivors in the war-torn city. Scavenging old military sites for food and parts, the two girls explore the wastelands and speculate about the old world to pass the time. Between Yuuri's clumsy excitement and Chito's calm composure, their dark days get a little brighter with shooting practice, new books, and snowball fights on the frozen battlefield.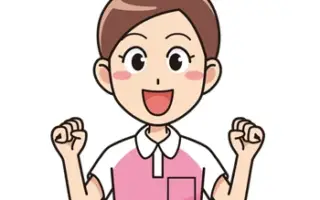 Moe and war don't sound like two genres that go together at all, but Shoujo Shuumatsu proves that concept very wrong. The anime takes the cute characters and adorable voice acting concepts from moe and effortlessly blends them with the emotional elements of war animes. I couldn't stop thinking about this anime for days after finishing it, I think it changed some part of me for the better.
6. Is The Order A Rabbit
Story
While looking for new accommodations during her upcoming semester, Kokoa Hoto finds a home in a coffee shop called "Rabbit House." Kokoa agrees to waitress at the shop to pay for her boarding, and befriends other waitresses from the coffee house. With fluffy silliness and caffeinated fun, this show is a heartwarming comedy about five young waitresses and their amusing adventures in the town they call home.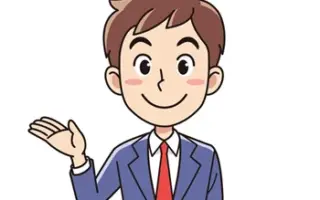 Coffee House And Waitresses
20s man
This might not be everyone's cup of tea, but this is probably one of the only animes that strictly adheres by the 'moe code.' It doesn't have any solid plot, but that's a given since the anime's entire focus is to provide colorful and adorable entertainment. Even if you don't end up watching all of the episodes, check out the Christmas episode! It's one of the cutest Christmas episodes in anime history.
7. Yuru Camp
Story
Rin Shima's ideal way of spending her days off is camping alone at the base of Mount Fuji. However, what starts as Rin's usual camping trips ends up as a surprise when she meets a lost girl and offers her refuge at her camp. Despite their hasty introductions, the two girls nevertheless enjoy the chilly night together, eating ramen and conversing while the campfire keeps them warm. And when the time comes to part ways, both girls silently ponder the possibility of another camping trip together.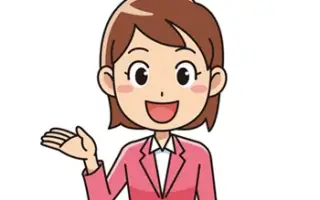 Laid Back Camp!
20s female
Yuru Camp doesn't try to be cute, or funny, or something so fuzzy that you'll end up wanting to go camping— but it effortlessly executes all of those feelings and much, much more. I remember watching the scene where Nadeshiko realized she was lost on YouTube, and it was so adorable and funny at the same time, I couldn't stop myself from binging the show. It's one of my most favorite moe animes in existence, don't miss out!
8. Nijichou
Story
Nichijou primarily focuses on the daily antics of a trio of childhood friends—high school girls Mio Naganohara, Yuuko Aioi and Mai Minakami—whose stories soon intertwine with the young genius Hakase Shinonome, her robot caretaker Nano, and their talking cat Sakamoto.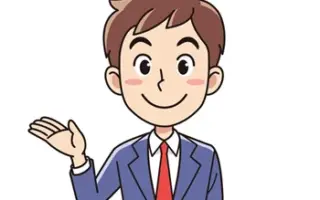 Nichijou is one of the few moe animes that manages to perform the dramatic elements flawlessly. There's nothing I would change about this show. The animation is so fluid and pleasing, it reminded me of Lucky Star! And the characters are some of the most adorable characters in existence — especially Nano! I didn't expect to find myself gushing so much about her, but she just too adorable.
9. Barakamon
Story
As a punishment for punching a famous calligrapher, young handsome calligrapher Handa Seishu is exiled to a small island. As someone who has never lived outside of a city, Handa has to adapt to his new wacky neighbors, like people traveling on a tractor, unwanted visitors who never use the front door, annoying kids using his home as a playground, etc. Can this city guy handle all the crazy hardships? Find out in this wacky island comedy full of innocence and laughter!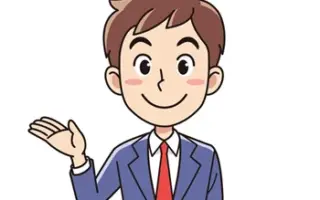 It Takes A Village To Raise A Man!
20s man
Barakamon lacks the glamours and feminine aspects of moe, but there's no anime that executes all other elements so beautifully. The anime shows the growth of Handa as he transforms from a narcissistic young man to a kindhearted, fun guy. And of course, there's Naru, the playfully annoying child you can't help but love.
10. Azumanga Daioh
Story
There certainly isn't a shortage of peculiar girls in Yukari-sensei's homeroom class. In addition, transfer student Ayumu Kasuga, a girl with her head stuck in the clouds, fits right in with the rest of the girls—and she has a few interesting theories about Chiyo's pigtails! Together, this lovable group of girls experiences the ups and downs of school life, their many adventures filled with constant laughter, surreal absurdity, and occasionally even touching commentary on the bittersweet, temporal nature of the high school.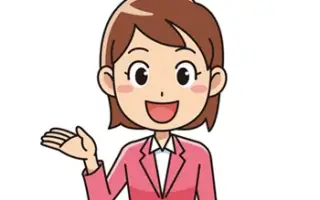 The OG Moe Anime
20s female
This is the anime that started the moe trend in the first place. It's perfect for newcomers who are just experimenting with moe anime because it doesn't do the 'cute-sy' element and still manages to create an atmosphere filled with adoration and comedy. Even veterans of this genre would love Azumanga Daioh, more so for its nostalgic artwork and Chiyo-chan!
11. Sleepy Princess In The Demon Castle
Story
They say Demon Lord Tasogare's castle is filled to the brim with monsters, and any soul captured here is sure to spend their life terrified. However, human princess Aurora Suya Rhys could not be less bothered about the horrifying creatures — her only concern after getting kidnapped is a goodnight's sleep, and there's no Demon Lord that could take that away from her.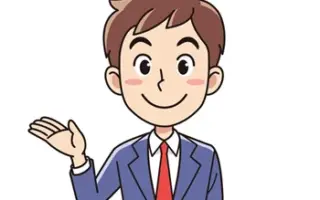 The Princess Is Terryfing
20s man
"I love sleep. My life tends to fall apart when I'm awake, you know?" This might just be the funniest show I've ever seen. The princess is perhaps more terrifying than any of the creatures in the castle, and she still manages to be cute! It's a unique anime with the funniest plots, absolute must-watch!
12. Hidamari Sketch
Story
Ever since she was young, Yuno has always had an interest in art. Now that she has been accepted to Yamabuki Arts High School, it means one thing—moving out. Living in a dorm at Hidamari Apartments alone, Yuno meets her neighbors: the hyperactive Miyako, the self-conscious Hiro, and the mature Sae. Despite their different personalities, they go to the same school, spend time together, and develop a strong friendship. Yuno's life won't be so lonely after all!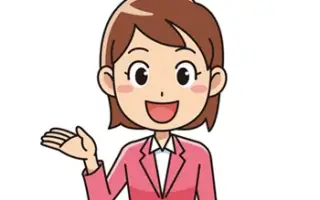 Chibi Sketch Artists!
20s female
Another moe and slice of life anime that is both funny and emotional. It's short (only 12 episodes) and is the perfect show to binge during short breaks. The animation was simple yet fluid, and while the show itself is quaint, it is extremely pleasant to watch.
13. Acchi Kocchi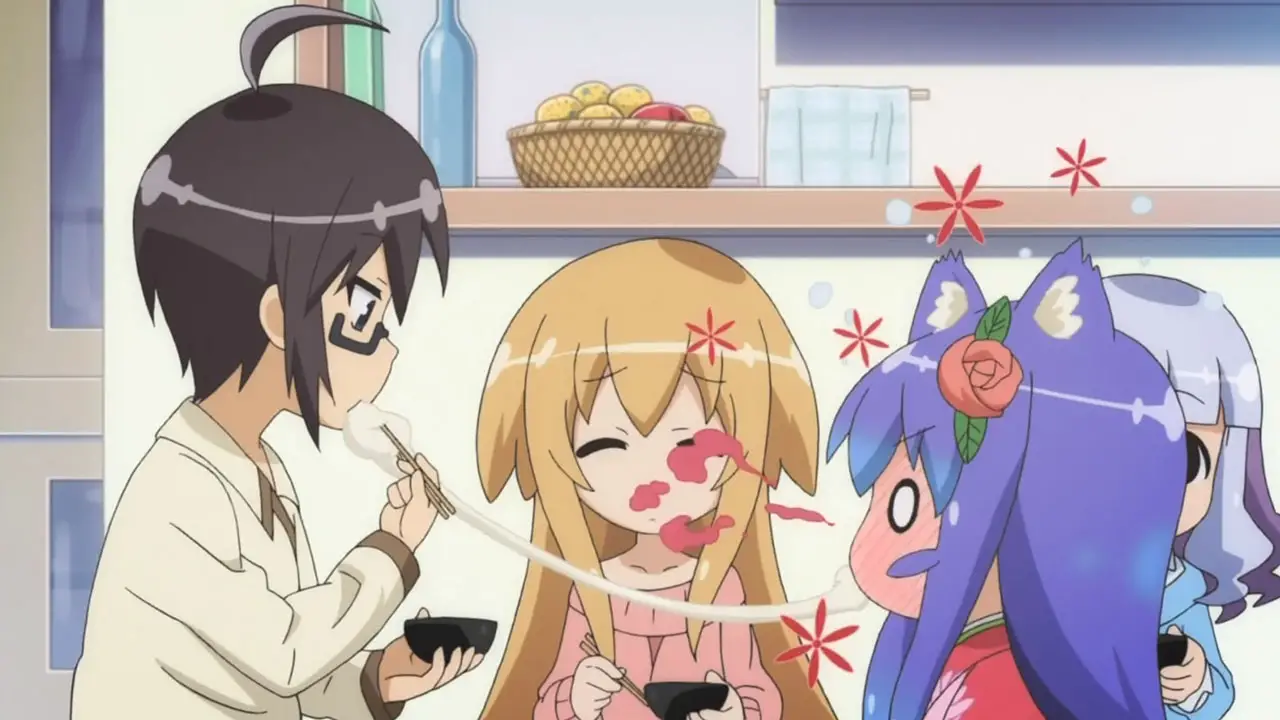 Story
Tsumiki Miniwa is in love with her best friend, Io Otonashi. For her, confessing is nearly impossible; but to her friends, they seem to be the perfect match. Despite the constant teasing and obvious hints that his friends have been dropping, Io always seems to miss the signs.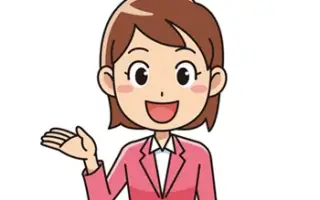 Imagine the power of moe and romance combined into one— too strong, right? I'm not a big fan of romcoms, and yet this anime made me wish I could find myself in Tsumiki's position. Every single frame of this anime tugged at my heartstrings, and I could not get enough. This anime gave me diabetes, not even exaggerating.
14. Nyanko Days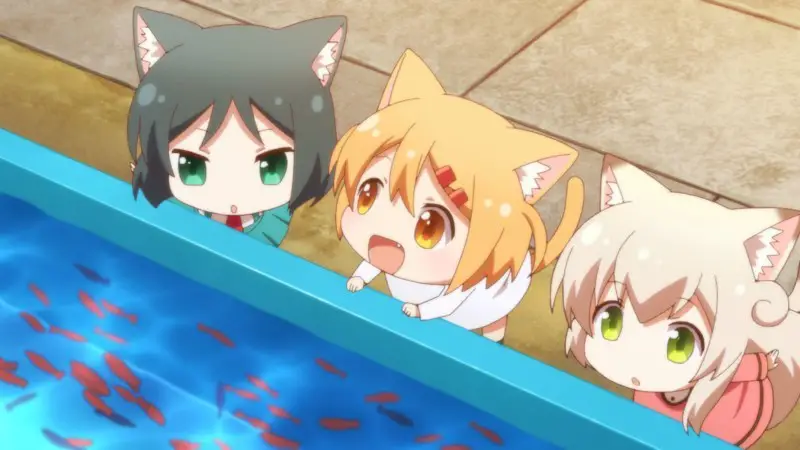 Story
This is a fluffy and cute comedy about the daily life of Tomoko and her part-human loli cats, Tomoko and Azumi's friendship, and the interaction between cats.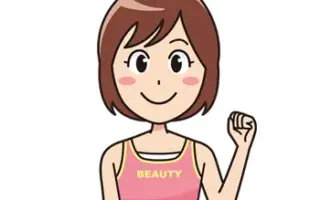 Adorable Cat-Girls!
10s female
If you're afraid this might have ecchi undertones, don't worry. This is the fuzziest, most wholesome cat-girl anime in existence. It's a short show (2-4 minutes each episode) and gosh darn it will leave you gushing and squealing at the cuteness. Especially Shii— you're going to want to steal her from Tomoko so bad.
15. Lucky Star
Story
Lucky Star follows the daily lives of four cute high school girls as they go about their lives at school and beyond. They develop their eccentric and lively friendship and making humorous observations about the world around them. Be it Japanese tradition, the intricacies of otaku culture, academics, or the correct way of preparing and eating various foods—no subject is safe from their musings.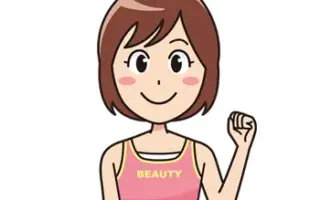 High-school Moe!
10s female
You'll either love this anime or hate it; but given that it's so popular, it's worth a shot. There's a recurring homely and domestic theme throughout the show, so if you're craving something with wholesome domestic tropes, Lucky Star should be worth watching!
16. Love Live!
Story
When news gets out that the school is going to close due to lack of new students, Honoka and several of her friends rally together and form a school Idol group in order to prevent the school from closing.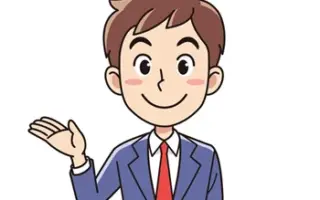 School Idol Project
20s man
Love Live is a very popular moe anime, so unless you're a newcomer, there's no way you haven't at least heard of it by now. This show features all the things that make moe so special: flashy art, adorable characters, and an amazing plot. And Honoka is one of the cutest mcs in existence, it's hard not to like her.
17. Shinryaku! Ika Musume
Story
Possessing all the fearsome abilities of a squid such as powerful hair-tentacles, the ability to spit ink, and even use bioluminescence at will, Ika Musume takes it upon herself to rise from the depths of the ocean and exact revenge upon humanity! However, she accidentally destroys part of a wall in an attempt to flaunt her squiddy superiority and is consequently forced into becoming a waitress to pay the repair costs. Beached for the time being after tasting a thorough defeat at the hands of the Aizawa sisters, Ika Musume is forced to put her plans for world domination on hold.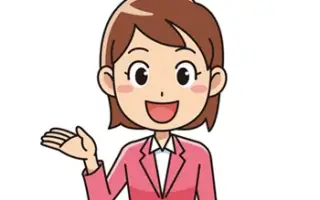 Invader From The Bottom Of The Sea!
20s female
This anime has some very, very cute specials that reimagine Musume as small as a tiny bug, and when I tell you they're moe-overload, I'm not exaggerating. This is a very cute anime set on the beachside, and a lot of delicious sea food to go with the adorable characters.
18. Kantai Collection
Story
With the seas under constant threat from the hostile "Abyssal Fleet," a specialized naval base is established to counter them. Rather than standard naval weaponry, however, the base is armed with "Kanmusu"—girls who harbor the spirits of Japanese warships—possessing the ability to don weaponized gear that allows them to harness the powerful souls within themselves.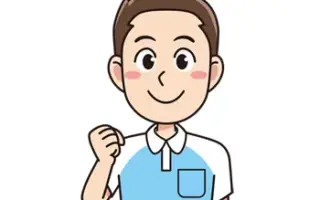 Warships As Girls!
30s man
For an anime based on a game, this show has some of the best animations and soundtracks combo out there. In traditional moe methods, this anime features a ton of loveable female characters, but it also has some stellar action sequences that keep you excited throughout. You can't miss this one.
19. The Melancholy of Haruhi Suzumiya
Story
The SOS Brigade is a club that specializes in all that is the supernatural. Much to his chagrin, Kyon, along with the silent bookworm, Yuki Nagato, the shy and timid Mikuru Asahina, and the perpetually smiling Itsuki Koizumi, are recruited as members. The story follows the crazy adventures that these four endure under their whimsical leader, Haruhi.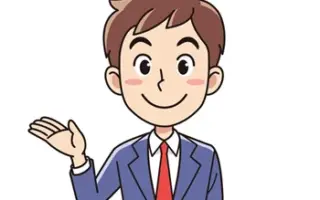 Aliens, Vampires and Haruhi
20s man
This is more of an episodic anime, but there are tie-ins in each episode that make it rewarding. This show combines the elements of the supernatural with moe and high-school genres, and it's a very fun way to spend the night.
20. Kuma Miko
Story
What does a bear know about life in the big city? For Machi's sake, hopefully, a lot! The young shrine maiden has spent her whole life in the rural mountains with Natsu, her talking guardian bear. Now, at fourteen, she wants to take a chance and attend high school in the big city. Can Natsu really prepare her for city life? Or will his wacky trials be too much for even Machi to bear?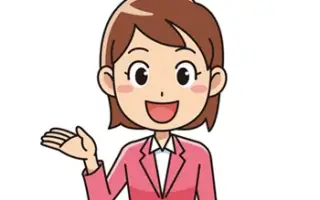 Girl Meets Bear
20s female
Macchi is one of those characters that you see and instantly want to protect. If nothing else, I'd recommend you watch this anime just for her. She's socially anxious but refuses to let that stop her from trying to talk to people and live confidently. Honestly, the first half of this show is the best.