oyuchan
Does she like Subaru? Why does Beatrice have the Gospel? and other mysteries were not revealed in the first season.
I will explain the mystery of Beatrice, one of the heroines of Re:Zero.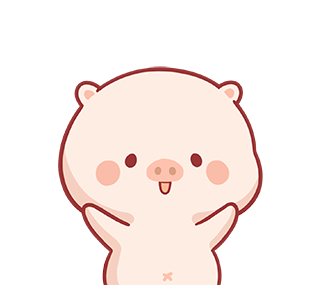 tsukachan
Beatrice was tsundere to Subaru in the first season of the anime (tsundere: a moody way of treating). She didn't have involvement in the White Whale Battle or the Battle of Petelgeuse. Why is Beatrice guarding the Forbidden Library? Why does Beatrice have the Gospel? and other mysteries were not revealed in the first season.
But in the second season of the anime, Beatrice's hidden true intentions are getting revealed and her relationship with Subaru is changing dramatically, making her one of the main heroines!
This article explains the mystery of Beatrice based on the light novel.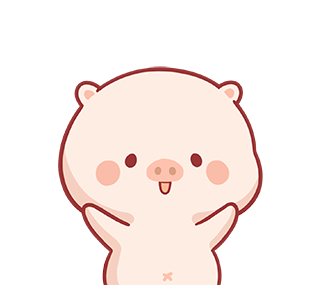 tsukachan
Please note that it contains major spoilers.
[Re:Zero] Beatrice's profile and personality summary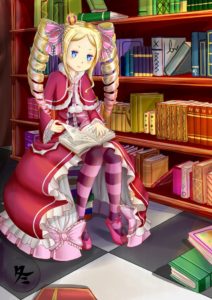 Age: 11-12 years old (actual age is over 400 years old)
Height: 140cm
Dislikes: someone who is pushy
Nickname: Betty
Specialties: yin magic, good memory
Hobbies: reading, redecorating the Library, singing
Voice actor: Arai Satomi
Beatrice is a spirit who guards the Forbidden Library of the Roswaal Mansion. She is a cute little girl with a blonde drill twin-tail and wears a frilly dress. She speaks with the endings "~kashira" and "~noyo". However, despite her adorable appearance, Beatrice's attitude is authoritative and she rarely lets others in her heart. Beatrice only treats Puck, who is also a spirit, with a big smile on her face.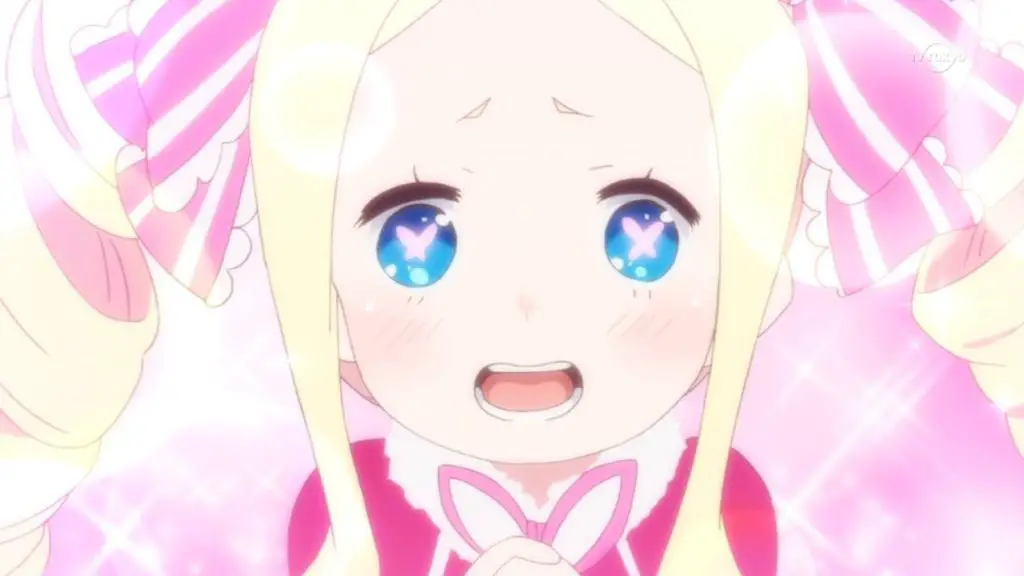 Beatrice and Subaru get along well enough to fight.
Beatrice has an ability called Door Crossing. Door Crossing is the ability to warp the Forbidden Library at every door of the Roswaal mansion. Beatrice can cross the doors to keep people away from the Forbidden Library.
Only Subaru was able to detect the door-crossing process by intuition, and he often came to the Forbidden Library. Beatrice had trouble with Subaru's familiarity and close distance, and they fought repeatedly. They were close enough to fight with each other.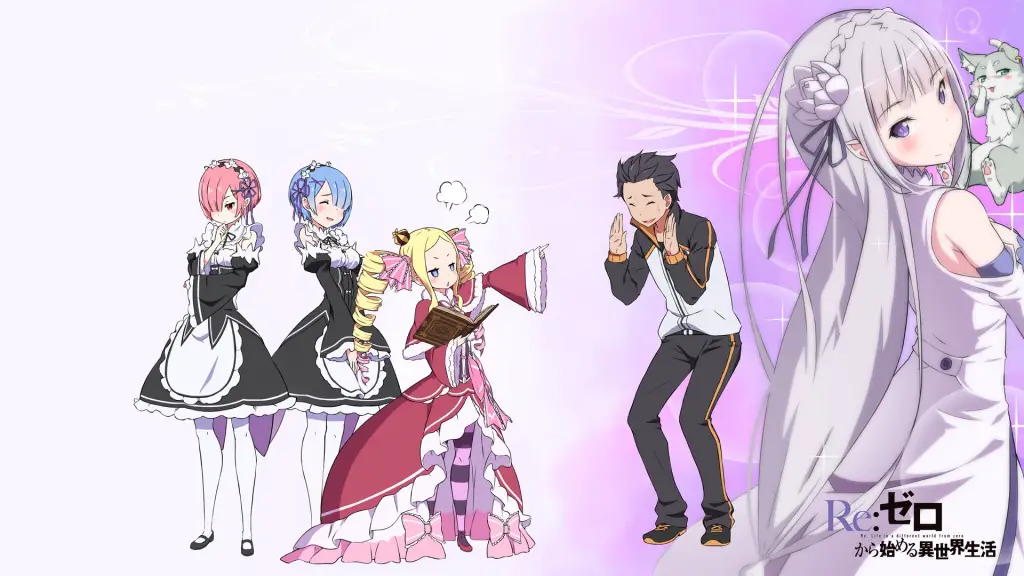 Beatrice and Subaru often argued with each other, making light arguments. When Emilia said Beatrice and Subaru that they look good together, Beatrice and Subaru were like, "That's not true!" They said at the same time (perfect harmony).
Beatrice is very caring.

oyuchan
Beatrice is cute in that she is kind to Subaru.
Subaru visited the Forbidden Library shortly after his return by death, mending his fears. After some point of time, Beatrice said,
"It's time for you to leave. Your hands have stopped shaking, and I think it's about time you can fake your fears"
in a scene where Beatrice calmed Subaru down with her normal interactions until he recovered.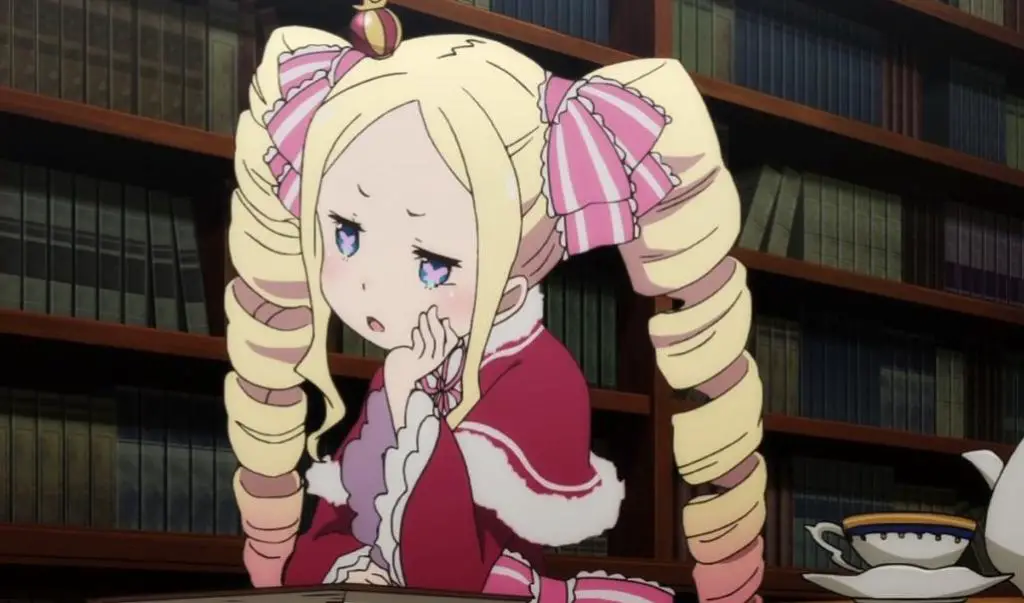 Even in the scene where Subaru asked Beatrice for an outrageous request to "protect him until the morning of the fifth day" without giving her a detailed explanation, Beatrice agreed and said,
"I will hear thy request. In the name of Beatrice, a covenant was hereby made".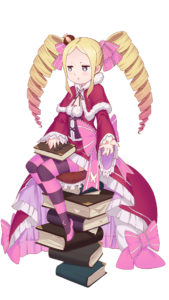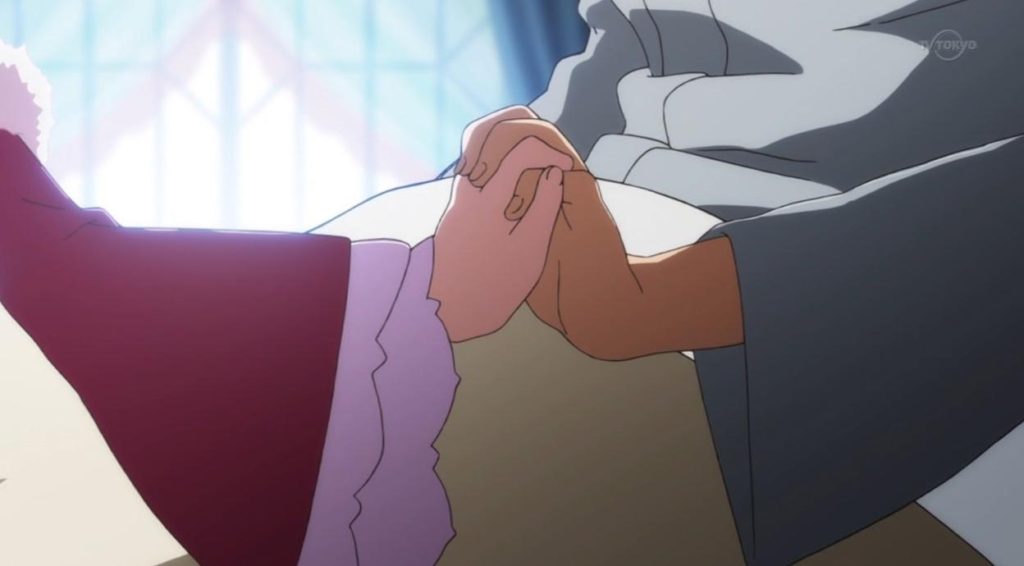 Beatrice protected Subaru to the end, even though she had turned Ram against her.
When Subaru asked her about the curse, Beatrice politely told Subaru, who knew nothing, about the spell in detail.
Beatrice made sure that if Subaru was cursed, it would be lifted properly.
She cured Subaru, who was seriously injured when he was attacked by a magical beast even though she did not know if he would survive.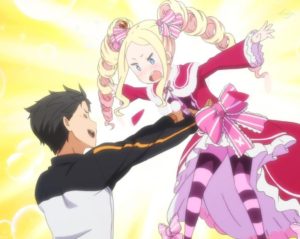 Subaru even said "I love you Beako!" because Beatrice was so good at taking care of Subaru.
That's how Beatrice is a caring and gentle little girl.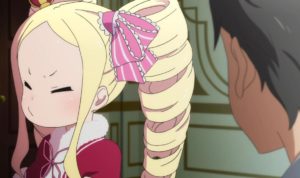 Beatrice is, in a word, a tsundere.
Beatrice and Subaru are such a pair, but in the second season, they become even more attached...!
Let's look into her past and the changes in her relationship with Subaru!
[Re:Zero] Beatrice and Subaru's Relationship
Now let's take a look at the changes in Beatrice and Subaru's relationship in the second season.
Why had  Beatrice become so unapproachable in the second season...? And what does she want?
Why does Beatrice have the Gospel?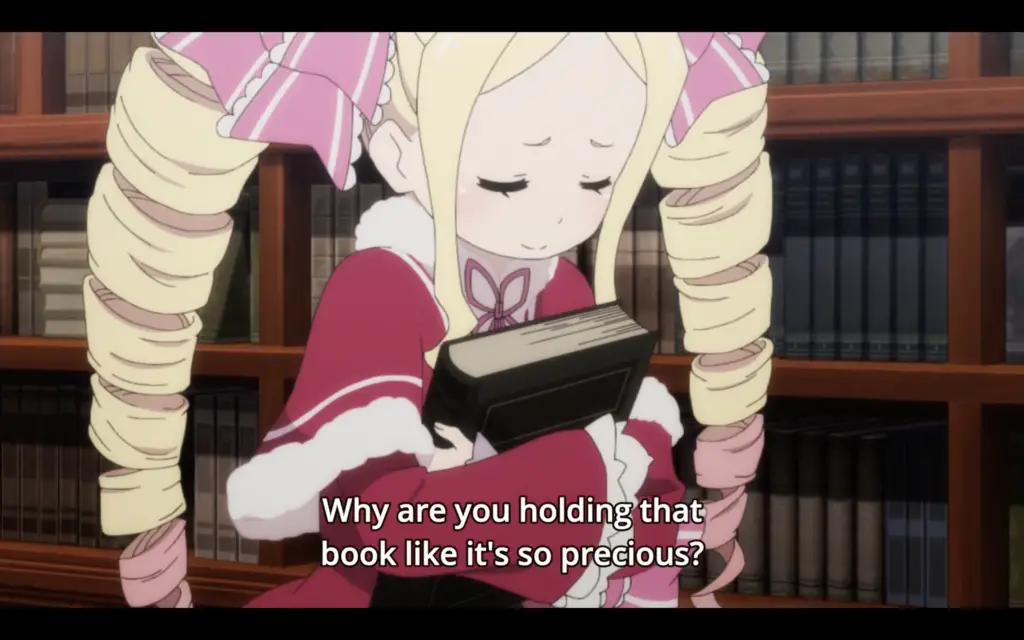 She does not have the Gospel, but the Book of Wisdom with her.
The Book of Wisdom shows her true future. Beatrice had the Book of Wisdom because Beatrice's mother, Echidna the Witch of Greed, gave her.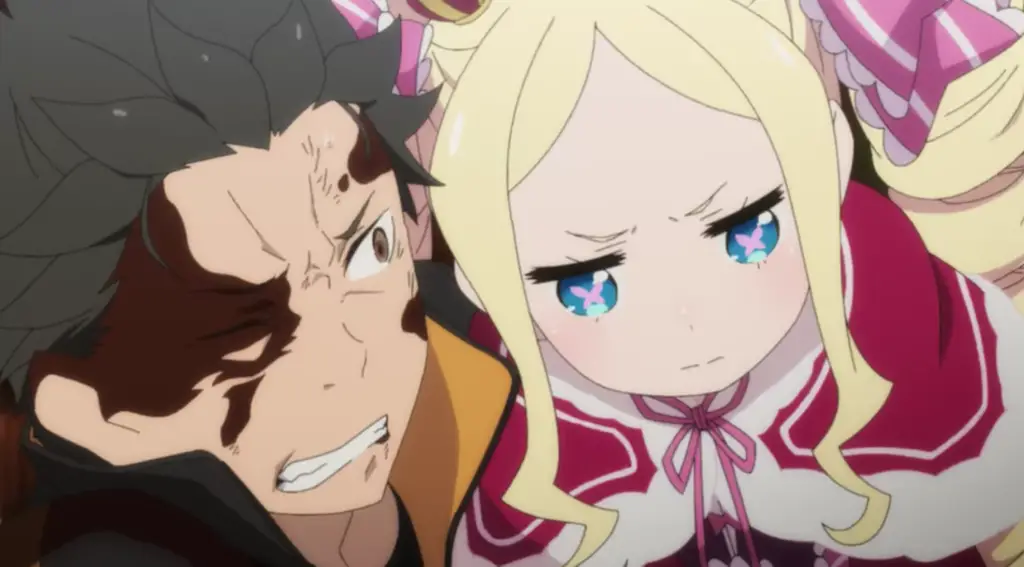 Roswaal's mansion was attacked by Elsa. Subaru's friends were in danger. Subaru couldn't abandon Beatrice. So, Subaru went into the Forbidden Library and tried to take Beatrice out, and he gave her every word. But she refused, because she had made a promise to her mother, Echidna, that she would protect the Forbidden Library until "the one comes".
Beatrice would give the Forbidden library to a suitable person who would eventually come. That was Beatrice's contract, her mission.
To her, the contract was the most important thing, and she cannot break the contract and abandon the Forbidden Library and escape. Beatrice said to Subaru that because it was written in the Gospel that Beatrice helped Subaru. She shunned Subaru and said she didn't help him because of her personal feelings.
[Re:Zero] Who is Hector? The Melancholy Warlock is thoroughly explained!

Hector is stronger than the witch Echidna. Echidna's purpose in creating the sanctuary was to fight against Hector, who was coming after Echidna.

Read more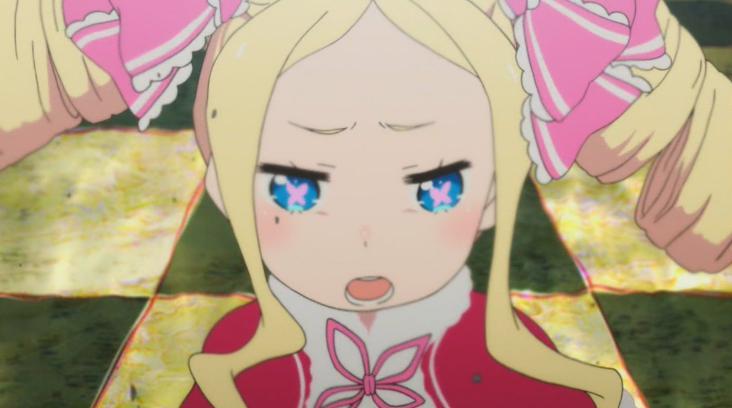 She said with tears streaming down her face,
 "There's no way you can move Betty's heart.
What does Beatrice really want?
In another loop after Beatrice rejected him, Subaru learned that Beatrice's Book of Wisdom was blank.
This meant that Beatrice helped Subaru because of her feelings, not because of what was written in the Book of Wisdom. Once again, Subaru decided to help Beatrice.
However, when Beatrice told Subaru about "the one", she demanded something completely different from Subaru.
''I want you to ..., I want you to ... I want you to help me......... I am sad and painful........I want you to rescue Betty from this darkness......."
Subaru reached out to help Beatrice out, but she said
Will you kill Betty?
She refused to be rescued by Subaru.
If you're going to take Beatrice out, you can't be half-heartedly prepared.
"Think Betty, first. Choose Betty first. Override the contract. Fill in the contract. Take me out. Pull me closer. Give me a hug"..
Beatrice told Subaru that she wants to be paid more attention. After four hundred years of solitude, all she wanted was love. But Subaru was unable to satisfy the love Beatrice desired. Because Subaru's first choice was Emilia. She knew that.
So rewriting the contract with Echidna was not something Subaru can do.
So, instead of rewriting the contract, I want you to kill me and so I can get it over with.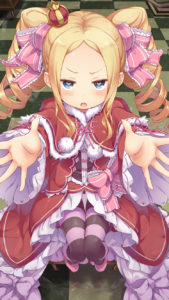 Beatrice's wishes for Subaru were thwarted by Elsa.
Both Subaru and Beatrice were overwhelmed, but Beatrice, who was supposedly asking to be killed, continued to fight for Subaru. For Beatrice, Subaru was definitely special.
[Re:Zero] Why does Roswaal have the Gospel? The true face of Roswaal revealed!

Why does Roswaal have the Gospel? Is he a member of the witch-cult? Roswaal was given the Gospel by Echidna.

Read more
Beatrice and Subaru's Love and Contract
Subaru decided to rescue Beatrice this time.
"I'm going to get you out, Beatrice.  This time you'll be dragged out to sunshine by me, and you'll play with that dress until it's black with mud all over it. But I am going to rescue you not as "the one" but as Natsuki Subaru."
Beatrice repeatedly kicked Subaru out of the Forbidden Library, saying "I'm not your that person". There were no more doors to open. The mansion had been set on fire by the attack. The last remaining door. If it didn't lead to the Forbidden Library, he would be burned to death.
Under these circumstances, Subaru spoke to the door.
''Beatrice, I believe in you".
Inside the burning mansion, Subaru opened that last door - which led to the Forbidden Library.
Beatrice had rejected Subaru many times, but she had rescued him.
"He could be the one. .... if not, he could kill me."
said Beatrice.
Beatrice herself even didn't know why she thinks Subaru is special but she had a faint hope.
But Subaru said it again and again.
"I'm not 'that person'. But I want to be with you. I want to be by your side so that you won't be sad, sweetheart"
He continued to express his feelings.
Subaru cannot understand the four hundred years that Beatrice had spent in solitude. However, Subaru can hold hands with Beatrice tomorrow. Subaru said to Beatrice:
"Choose me"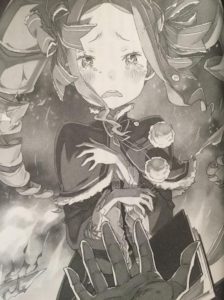 Finally, Beatrice turned to Subaru for help.
She understood that if she relies on Subaru's kindness, she would never be able to return to her old self again.
Subaru said.
"You live in eternity, and the time you spend with me may only be a fleeting moment.
But I will engrave my moment with you in your soul."
Beatrice says.
--Subaru.
--Subaru, Subaru.
--Subaru, Subaru, Subaru--Subaru!
Beatrice called out Subaru's name and sealed the contract!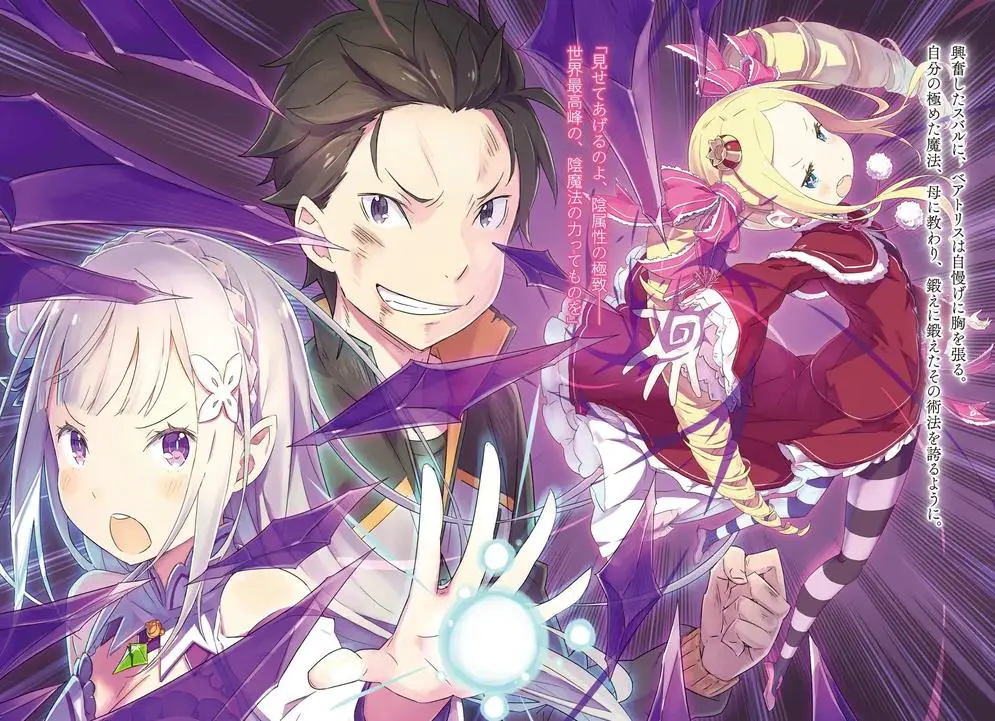 What happened to Beatrice and Subaru after Sanctuary Arc?
After Beatrice and Subaru made a deal, Beatrice was always next to Subaru. They slept in a room together, made sure they were into each other, spent time constantly holding hands, and she had a permanent position on Subaru's lap.
Beatrice and Subaru's light arguing remained the same, but they treated each other like a family.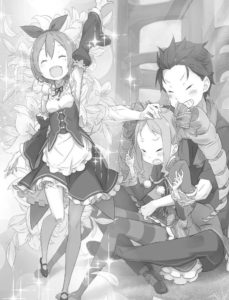 "Betty didn't leave the Forbidden Library because I wanted to be Subaru's number one. Betty came out of the Forbidden Library because I wanted to make Subaru the number one of Betty"

oyuchan
What an insanely cute thing to say. It's almost a confession.
After Beatrice signed a contract with Subaru, they couldn't trust each other more. They were the best couple. Beatrice and Subaru were getting closer and closer, and Beatrice was getting cuter and cuter. Look forward to their interactions in the anime!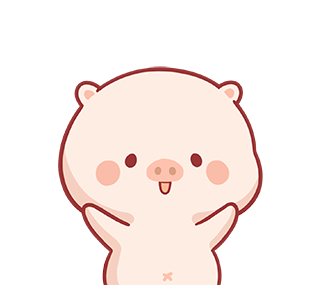 tsukachan
[Re:Zero] Why does Roswaal have the Gospel? The true face of Roswaal revealed!

Why does Roswaal have the Gospel? Is he a member of the witch-cult? Roswaal was given the Gospel by Echidna.

Read more